Cannabis therapeutics is a personalised medicine. Your doctor will recommend a therapeutic dose, however, the number and timing of drops /mL's to reach the optimal dose will vary between individuals. Determining the optimal individualised dose of medical cannabis oil may take some weeks to achieve. It's important to start with a low dose and gradually increase the dose over a period of time (also known as titrating). Record every dose in a dosing diary to find your individualised optimal dose
The goal is to find the minimum effective dose.
Open and print the Dosing Guide by clicking here
TITRATING DOSE
START LOW & GO SLOW!
1. Increase drops/mL(s) as per titration guide to recommended dose.
2. Once desired symptoms have been achieved the optimal dose has been found. Pain Mood Sleep
3. Record in dosing diary.
Cautiously find your optimal dose using slow titration techniques. Some people respond better to microdosing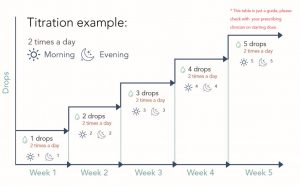 CBD OIL DOSING
ADMINISTRATION TECHNIQUE
1. Start by eating something with fat in it (i.e. spoonful of yogurt, cheese & coconut oil, avocado etc.).
2. Place drop/mL(s) on spoon, then underneath your tongue and swallow after 90 seconds.
3. Record in dosing diary.
* Discontinue use if any undesirable effects occur
POSSIBLE CBD SIDE EFFECTS
• Dry Mouth
• Nausea
• Diarrhoea
THC OIL DOSING
One's sensitivity to THC is a key factor in determining one's optimal dose. Cautious titration is urged
ADMINISTRATION TECHNIQUE TO FIND YOUR INITIAL DOSE
1. If possible, start by eating something containing fat.
(i.e. spoonful of yoghurt, peanut butter, avocado).
2. Place drop/mL(s) in mouth and swirl around for 90 seconds, then swallow.
3. Reassess if desired symptom control has been achieved. If the answer's no, continue to titrate as per dosing table.
4. Once desired symptom control has been achieved, you've found your dosing regimen.
5. Record your optimal dose in dosing diary.
Our very own Dr Ben gives you a rundown on our most frequently asked questions around THC dosing!
POSSIBLE THC SIDE EFFECTS
• Increased heart rate
• Dizziness
• Drowsiness
• Impaired short-term memory
• Dry Mouth
• Nausea
• Anxiety
• Increased appetite
• Euphoria
• Uncontrollable laughter
*Discontinue use if any undesirable effects occur.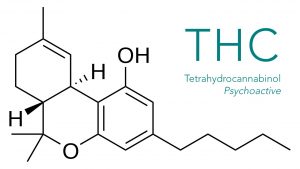 WHAT HAPPENS AFTER MY INITIAL CONSULT?
1. You must pay for your consult before we can submit your application to the TGA, and before your prescription can be created and sent to the pharmacy.
2. When your application is approved, the doctor will write your prescription and send it to the pharmacy.
3. The pharmacy will order your medicine from the supplier. When the pharmacy has your physical prescription and the medicine has arrived, the pharmacy will contact you.
This process will take up to 10 business days. Please contact the clinic if you have not been contacted after 10 days. In some cases, the TGA requires more information for your application to be approved and this can take longer.
Don't wait until your prescription has run out! Please ensure you contact us in advance to book a repeat prescription consult.
Citations:
https://www.healthdirect.gov.au/medicinal-cannabis